THE THIRD KINGDOM OF NATURE

Mineral exhibition in the Old College of Kecskemét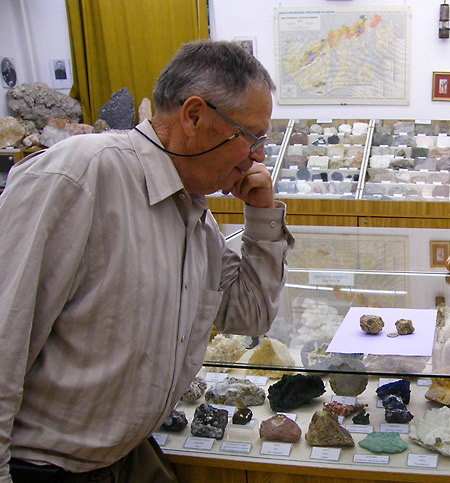 András Fuxreiter, the mineral collector
The Old College of Kecskemét

Amethyst geoda

Fluorescent minerals

 

The permanent exhibition was established by András Fuxreiter in 1997 from his ownmineral collection to show the beauties of inorganic Nature.2200 minerals, stones and fossiles are presented in  glass-covered show-cases and wooden cases below. Larger, demonstrative pieces are placed on pedestals. The collection is a has been declared a national heritage in 1999.






The exhibition is organized as follows.

Minerals
– 9 mineral groups: a chemical classification 
– minerals and assemblages by origin
– fluorescent minerals

Stones
– magmatic, sedimental and metamorphic stones
– stones in everyday life

Fossils
– the history of Earth
– larger skeletal pieces

The exhibition includes the largest collection of fluorescent minerals in Hungary. The exhibition also contains a geological library and map collection. The museum welcomes school groups for physics, chemistry, biology or geography classes and provides opportunity for demonstrations.



Address:
Ráday Múzeum, Kecskemét, Kálvin tér 1.
opening hours: Tuesday-Sunday 10-18 h
Phone number: 76-486226, guidance could be requested.